Employee of the Year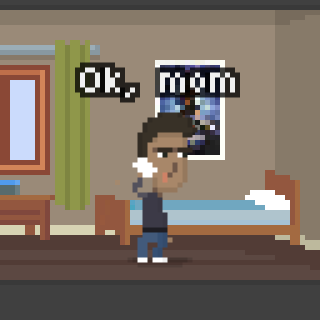 Life's tough when you're a genius but nobody seems to notice!
Employee of the Year is a little point-and-click adventure that deals with Office-related parties, unrequited love stories, killings, a lot of plans, parallel universes and apple pies.
Made for #lowrezjam 2020 (choosed theme: Parallel Universe) it features a 64x64 pixel resolution, and a left click / right click only interface.

You're Ted and tonight you will attend to the Employee of the Year party. A great event that your employer, Parallel, organize to highlight its best employee.
Which you're not.
So your clever evil plan is to transform that ugly party - in which everyone will praise your nemesis (and you'll be lonely and sad) - in YOUR great memorable night, asking out your long-time Office crush and terminating that pompous Employee of the Year, and that during his official speech!
Technical notes:
Everything (story&assets) has been done by me (specifically for this jam, within jam limits) with these exceptions:

- fonts (the low res one is from dafont.com )
- soundtrack (a free song by www.bensound.com)
I used my own point-and-click engine (modified for 64x64 jam limit) powered by Defold
Comments
Log in with itch.io to leave a comment.
Good job ! I really enjoyed your game. Thanks for the fun !
was that a steven universe reference? that poster on the wall when you walk back into the hall after using the computer?
ah! nope - and I admit I didn't think of that potential misleading. That poster is a DragonBall reference (that, considering, I think it could give an idea about how different this universe - where Ted is the loved one - is)
Ted needs better plans, and has to do something about all the jealousy. It would be cool to continue following his... shenanigans. :)

eh eh eh :) yes he does (Need Better Plans can be a trademark) and who knows maybe he could really have a episode two :)
Great work ! I enjoyed it
Great work! I was impressed that a point and click could fit in such a small space. I also liked the twist at the end. Poor Ted though, he never seems to catch a break!
I liked your game and art , I paid tribute to you.